I couldn't believe it. There I was hanging out with the ladies at the yarn shop when she walked in.  Our jaws dropped. 
Shoes just for us!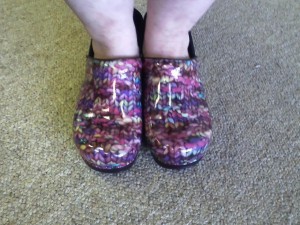 They do come with a hefty price tag. Currently priced at $139.95. Ouch! They are from the The Walking Company. 
The lady at the yarn store says they are super comfortable.
I'm keeping my eye out for when it goes on sale. This design is new so I figure they'll be pricey for a while. But at some point they'll go on sale, and I'll be ready to snatch them then.