It's not often my son asks me to knit him something but when he does, I just love it.  His request…a beanie. He wants it orange but it has to be a special orange, not just any orange color. He wants a warm orange. So as you can imagine, I immediately jumped to the task, excited and all, and set off to find that perfect orange yarn.
Now mind you, he's a college student and does his own laundry, so I figure that the beanie is going to end up in the wash and spin cycle at some point. Its going to have to be washable yarn of course.
This afternoon, I visited my local knit shop, Knit! in Longwood and I think I found it!
Cascade Yarn 220 Superwash, Pumpkin
If he likes it, it will be on my needles very soon.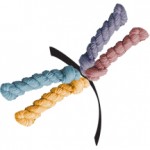 _____________________________________________________